Church Of Christ at Fairfield
Are you close to
God

?

We would be glad to help you come closer...
Most Recent Audio from our Services...
Mike Kelley - What the World Needs Now 10-25-2020 AM
Want to hear more audio from our services? Click here to visit the archives, where all audio recordings are cataloged.
Weekly Bulletin Message...
Mike's Minute
By Mike Kelley
Know this, my beloved brothers: let every person be quick to hear, slow to speak, slow to anger; for the anger of man does not produce the righteousness of God.
-James 1:19-20
He that hath no rule over his own spirit is like a city that is broken down, and without walls.
-Proverbs 25:28
When a person loses his temper, one of the most common expressions used to describe the situation is "fly off the handle." This phrase refers to the head of a hammer coming loose from its handle as the carpenter attempts to use it. Several undesirable things happen as a result.
First, the hammer becomes useless. It is no longer good for productive work. In like manner, when a person loses his temper, he often loses his effectiveness. Anything he says may not be taken seriously and is likely to be unproductive.
Second, the hammerhead, twirling out of control, is likely to cause some type of damage, even if the damage is unintended. Anger may be physically damaging to people or objects... and is quite often damaging emotionally to those who feel they are victims of uncontrolled rage.
Third, the repair of both the hammer and the damage it does takes time and effort. The person who loses his temper may recover quickly, but the one who is the target of a hot temper rarely recovers so quickly.
Anger is like a fire. It is appropriate and useful in the proper context... but damaging, and even deadly, when it is allowed to burn out of control.
The takeaway message? Keep your temper today. Nobody else wants it!
The above text is the article from the bulletin front page dated 11/12/2020
Want to see more bulletin articles? Click here to visit the archives, where all articles are cataloged.
Home

page for the Church Of Christ at Fairfield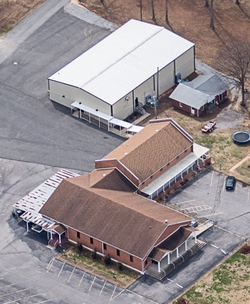 Welcome to the Fairfield Church of Christ website. Thanks for visiting!
LOCATION:
Fairfield Church of Christ
1860 Hwy 100
Centerville, TN 37033
(931) 729-5142
View Directions
WORSHIP SERVICES:
SUNDAY
Morning Worship: 9:00 AM
Bible Study: 10:15 AM
Evening Worship: 6:00 PM
WEDNESDAY
Bible Study: 7:00 PM

WEBSITE VISITOR STATISTICS:
25 page visits today
33740 page visits since 1/1/2018