Church Of Christ at Fairfield
Are you close to
God

?

We would be glad to help you come closer...
Most Recent Audio from our Services...
Mike Kelley - The Amazing Race 10-10-2021 AM
Want to hear more audio from our services? Click here to visit the archives, where all audio recordings are cataloged.
Weekly Bulletin Message...
Mike's Minute
By Mike Kelley
But the fruit of the Spirit is...kindness
Galatians 5:22
After a few years of marriage, Joe no longer saw his wife as interesting, fun, or attractive. He became more and more bothered by her sloppy housekeeping and her fault-finding personality.
He contacted a divorce attorney. The attorney advised him thusly, "Joe, if you really want to stick it to your wife, start treating her like a queen! Do everything in your power to serve her, please her, and make her feel special. Then, after a couple of months of this royal treatment, pack your bags and leave. That way, you will disappoint her as much as she has disappointed you."
Joe could hardly wait to enact the plan! He picked up a dozen roses on the way home, helped his wife with dinner and the dishes, and brought her breakfast in bed. He began complimenting her on her clothes, cooking, and housekeeping. He even treated her to an out-of-town trip.
After three months, the attorney called and said, "Well, I have the divorce papers ready for you to sign. Come to my office and in just a few minutes you will be on your way to being a happy bachelor."
"Are you crazy?" Joe said. "My wife has made so many changes that I wouldn't think of divorcing her now!"
Kindness extended to another person may or may not change the other person, but it does change the person showing the kindness. It makes them even kinder.
Is your religion kind? If not, it's not the Christian kind.
The above text is the article from the bulletin front page dated 9/16/2021
Want to see more bulletin articles? Click here to visit the archives, where all articles are cataloged.
Home

page for the Church Of Christ at Fairfield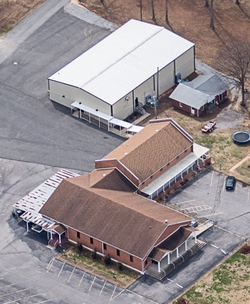 Welcome to the Fairfield Church of Christ website. Thanks for visiting!
LOCATION:
Fairfield Church of Christ
1860 Hwy 100
Centerville, TN 37033
(931) 729-5142
View Directions
WORSHIP SERVICES:
SUNDAY
Morning Worship: 9:00 AM
Bible Study: 10:15 AM
Evening Worship: 6:00 PM
WEDNESDAY
Bible Study: 7:00 PM

WEBSITE VISITOR STATISTICS:
20 page visits today
46183 page visits since 1/1/2018