Church Of Christ at Fairfield
Are you close to
God

?

We would be glad to help you come closer...
Most Recent Audio from our Services...
Mike Kelley - Will Your Faith Get You Home
Want to hear more audio from our services? Click here to visit the archives, where all audio recordings are cataloged.
Weekly Bulletin Message...
Mike's Minute
By Mike Kelley
This past Sunday, we buried one of the greatest men I have ever known. "Coach" Greg McCord went home to be with the Lord. I knew Coach McCord for 40 years. I knew him as a coach, a camp director, and a counseling supervisor. I knew him as a father-figure and as a friend. When I was in 7th grade, Coach McCord asked me to try out for the middle school basketball team. I said, "Coach, I don't know anything about basketball." He responded, "Let me teach you." And, boy, boy, boy did he teach me! He didn't just teach me during that basketball season. He taught me for the next 40 years. He didn't just teach me basketball, either. He taught me about life. I have been very fortunate to have been influenced by many good men and women. However, no one has had a greater impact on my life than Coach McCord. He has influenced my family, my career, and my eternity. I sure do and will miss him. But, as I said as I closed my part of the funeral sermon, "Sometimes you've got to die to get well."
Coach McCord isn't the only great man we have buried recently. Garland Horner has also finished his race. Garland and Coach McCord were very different in personality, but they shared the same "like precious faith." Garland was quiet, humble and kind. He was a man who stood for faith and family. He was a long- time and much-loved member of both the Centerville and Fairfield congregations. Garland will be missed... and seen again over there!
The above text is the article from the bulletin front page dated 5/5/2022
Want to see more bulletin articles? Click here to visit the archives, where all articles are cataloged.
Home

page for the Church Of Christ at Fairfield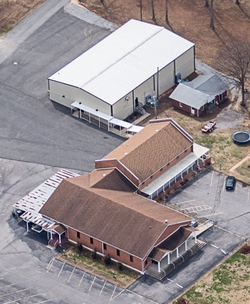 Welcome to the Fairfield Church of Christ website. Thanks for visiting!
LOCATION:
Fairfield Church of Christ
1860 Hwy 100
Centerville, TN 37033
(931) 729-5142
View Directions
WORSHIP SERVICES:
SUNDAY
Morning Worship: 9:00 AM
Bible Study: 10:15 AM
Evening Worship: 6:00 PM
WEDNESDAY
Bible Study: 7:00 PM

WEBSITE VISITOR STATISTICS:
15 page visits today
6613 page visits since 12/8/2021