Church Of Christ at Fairfield
Are you close to
God

?

We would be glad to help you come closer...
New Church Directory!
If you are a member of our church, and have not scheduled your photos, please click
here
to schedule your photo shoot. Your participation will help the church and yourself. Every family photographed for the directory will receive a copy of the directory and an 8x10 portrait at no cost. So please, sign-up today!
Most Recent Audio from our Services...
VBS Taylor Bell - The Life of Moses 7-10-22 PM
Want to hear more audio from our services? Click here to visit the archives, where all audio recordings are cataloged.
Weekly Bulletin Message...
Mike's Minute
By Mike Kelley
... the Lord seeth not as man seeth; for man looketh on the outward appearance, but the Lord looketh on the heart.
1 Samuel 16:7
President Abraham Lincoln had a disarming and engaging willingness to take himself lightly, even laugh at himself, especially when it came to his physical appearance.
When Senator Stephen A. Douglas once called him a "two-faced man..," Lincoln responded, "I leave it to my audience. If I had another face, do you think I would wear this one?"
Another time he told a group of editors about meeting a woman while riding horseback in the woods. In Lincoln's words, "She looked at me intently, and said, 'I do believe you are the ugliest man I ever saw.' I said, 'Madam, you are probably right, but I can't help it.' 'No,' she said, 'you can't help it, but you could at least stay home.'"
Although his face is widely recognizable, Lincoln isn't known primarily for his appearance, but for his courageous leadership during very difficult times in America. He is often held up as an example of remarkable patience, determination, dedication, compassion, thoughtfulness, and selflessness.
These inner qualities are what mark Lincoln as one of America's greatest presidents.
So much is made in our culture today of outward appearances and material possessions. We all would do well to remember that it is our virtuous inner qualities that create a lasting reputation... and find favor in the eyes of God.
Remember, when God measures a person, He puts the tape around the heart instead of the head.
The above text is the article from the bulletin front page dated 9/21/2023
Want to see more bulletin articles? Click here to visit the archives, where all articles are cataloged.
Home

page for the Church Of Christ at Fairfield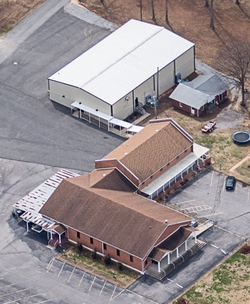 Welcome to the Fairfield Church of Christ website. Thanks for visiting!
LOCATION:
Fairfield Church of Christ
1860 Hwy 100
Centerville, TN 37033
(931) 729-5142
View Directions
WORSHIP SERVICES:
SUNDAY
Morning Worship: 9:00 AM
Bible Study: 10:15 AM
Evening Worship: 6:00 PM
WEDNESDAY
Bible Study: 7:00 PM

WEBSITE VISITOR STATISTICS:
52 page visits today
30337 page visits since 12/8/2021