Church Of Christ at Fairfield
Are you close to
God

?

We would be glad to help you come closer...
Most Recent Audio from our Services...
Mike Kelley - Lessons From A Lineage 1-10-2021 AM
Want to hear more audio from our services? Click here to visit the archives, where all audio recordings are cataloged.
Weekly Bulletin Message...
Mike's Minute
By Mike Kelley
Some Thoughts About 2021
21 is considered the "age of majority" in many nations, including the United States. When a person turns 21, they are no longer considered a minor. They are "grown up." They are responsible for their decisions and actions. I challenge you to make 2021 a year of spiritual growth in your life. Like Jesus, determine that you will grow in wisdom, stature, and in favor with God and man.
When pop singer, Adele, turned 21 in 2011, she released her second album, which she titled "21." Determine to have a song in your heart in 2021. Rejoice in the Lord every day. If the year brings hardships, follow the example of Paul and Silas when they were in jail in Philippi...sing in the pain!
21 is the name of a popular card game, better known in America as Blackjack. In 2021, play the hand that life deals you. You may not get the cards you want. Learn to want the cards you have...and play them to the best of your ability. Remember, all things work together for good for those who love God!
21 guns are fired to honor heads of state, such as royalty in the UK and the President of the United States. This tradition goes back to the days when the navies of the world shot cannonballs. In 2021, resolve that you will give honor to whom honor is due. First and foremost, honor God. Also, give proper honor to governing officials, police and civil judges, and elders of the church. Honoring those in authority is an old idea that needs to make a comeback in our culture. Let Christians lead the way!
Happy New Year. Let's make 2021 a great one!
The above text is the article from the bulletin front page dated 12/30/2020
Want to see more bulletin articles? Click here to visit the archives, where all articles are cataloged.
Home

page for the Church Of Christ at Fairfield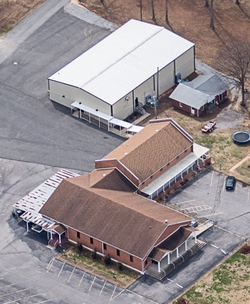 Welcome to the Fairfield Church of Christ website. Thanks for visiting!
LOCATION:
Fairfield Church of Christ
1860 Hwy 100
Centerville, TN 37033
(931) 729-5142
View Directions
WORSHIP SERVICES:
SUNDAY
Morning Worship: 9:00 AM
Bible Study: 10:15 AM
Evening Worship: 6:00 PM
WEDNESDAY
Bible Study: 7:00 PM

WEBSITE VISITOR STATISTICS:
12 page visits today
35399 page visits since 1/1/2018