Church Of Christ at Fairfield
Are you close to
God

?

We would be glad to help you come closer...
Most Recent Audio from our Services...
VBS Taylor Bell - The Life of Moses 7-10-22 PM
Want to hear more audio from our services? Click here to visit the archives, where all audio recordings are cataloged.
Weekly Bulletin Message...
Mike's Minute
By Mike Kelley
Do not let any unwholesome talk come out of your mouths, but only what is helpful for building others up according to their needs, that it may benefit those who listen.
Ephesians 4:29
A preacher announced that he was leaving the congregation to work with another church. He was standing at the door after worship to greet people, as preachers often do. An elderly lady approached him. Her eyes swimming with tears, she said, "Oh, preacher, I'm so sorry you have decided to leave. Things will never be the same again."
The preacher was flattered. Taking her hands in his, he replied with as much kindness as possible, "Bless you, dear sister, but I'm sure God will send you a preacher even better than me." She choked back a sob as she said, "That's what they always say, but they keep getting worse and worse."
May I remind you that people with tact have less to retract? Let's follow that old but timeless advice... "Think before you speak."
Before speaking, ask yourself if what you are thinking of saying aligns with the following qualities. Is what you are thinking:
True?
Helpful?
Inspiring?
Necessary?
Kind?
If your answer is "yes" to all 5 questions, your thought is worth sharing.
Old advice? Yes. But it would do a world of good AND the world some good if more of us would follow it.
The above text is the article from the bulletin front page dated 3/9/2023
Want to see more bulletin articles? Click here to visit the archives, where all articles are cataloged.
Home

page for the Church Of Christ at Fairfield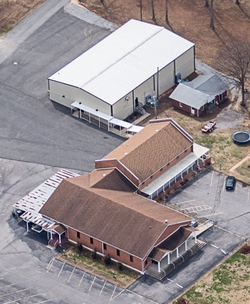 Welcome to the Fairfield Church of Christ website. Thanks for visiting!
LOCATION:
Fairfield Church of Christ
1860 Hwy 100
Centerville, TN 37033
(931) 729-5142
View Directions
WORSHIP SERVICES:
SUNDAY
Morning Worship: 9:00 AM
Bible Study: 10:15 AM
Evening Worship: 6:00 PM
WEDNESDAY
Bible Study: 7:00 PM

WEBSITE VISITOR STATISTICS:
32 page visits today
21186 page visits since 12/8/2021