Church Of Christ at Fairfield
Are you close to
God

?

We would be glad to help you come closer...
Most Recent Audio from our Services...
VBS Taylor Bell - The Life of Moses 7-10-22 PM
Want to hear more audio from our services? Click here to visit the archives, where all audio recordings are cataloged.
Weekly Bulletin Message...
Mike's Minute
By Mike Kelley
I have shown you in every way, by laboring like this, that you must support the weak. And remember the words of the Lord Jesus, that He said, "It is more blessed to give than to receive."
Acts 20:35
When Sidney Poitier was a teenager, he tried out for an acting role at the American Negro Theatre in Harlem. He was talented as an actor but didn't get the role... because he couldn't read.
Feeling that he had failed in his dream of acting, he got a job as a dishwasher. On one occasion, a man he described as an "elderly Jewish waiter" saw Poitier carrying a folded-up newspaper. The man said, "What's new in the paper?" Poitier responded, "I can't tell you what's in the paper because I can't read."
The waiter decided to do something about that. He started teaching Poitier how to read. He learned to read well enough that he got a role at the theatre where he had been rejected earlier.
The rest, as they say, is history. Poitier went on to enjoy a very successful career in acting. He opened the door for other African American actors to follow him.
As he was accepting the Lifetime Achievement Award from the American Film Institute some 50 years later, Poitier said, "I must also pay thanks to an elderly Jewish waiter who took time to help a young Black dishwasher learn to read. A little bit of him is in everything I do."
Legacy isn't just what you accomplish. Legacy is what others accomplish because of you. Legacy is growing fruit on other people's trees.
Think of a person you could help. Now, go help them. Remember, it is a blessing to be a blessing!
The above text is the article from the bulletin front page dated 6/1/2023
Want to see more bulletin articles? Click here to visit the archives, where all articles are cataloged.
Home

page for the Church Of Christ at Fairfield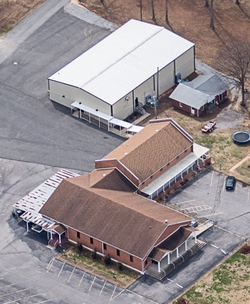 Welcome to the Fairfield Church of Christ website. Thanks for visiting!
LOCATION:
Fairfield Church of Christ
1860 Hwy 100
Centerville, TN 37033
(931) 729-5142
View Directions
WORSHIP SERVICES:
SUNDAY
Morning Worship: 9:00 AM
Bible Study: 10:15 AM
Evening Worship: 6:00 PM
WEDNESDAY
Bible Study: 7:00 PM

WEBSITE VISITOR STATISTICS:
6 page visits today
24579 page visits since 12/8/2021