Church Of Christ at Fairfield
Are you close to
God

?

We would be glad to help you come closer...
Most Recent Audio from our Services...
Mike Kelley - Will Your Faith Get You Home
Want to hear more audio from our services? Click here to visit the archives, where all audio recordings are cataloged.
Weekly Bulletin Message...
Mike's Minute
By Mike Kelley
VBS ASAP. Vacation Bible School at Fairfield will be here before you know it! This year's theme is Heroes of Faith. VBS will be held the last 4 Sunday nights in July. There will be classes, crafts, snacks (including ice cream), water fun, dry fun, inflatables, pizza, and more! What can you do to make VBS A-OK? First and foremost, pray for a safe, successful, and spiritual VBS. Second, round up some young folks and bring them. Third, if you would like to contribute or help in any way, see Jennifer Knight.
Prison Ministry Update. Fairfield's prison ministry continues to be productive. Tom Gosser reports that there were 3 more baptisms at the local jail this past Saturday. That makes 11 baptisms in the last couple of months! A special thanks to Tom and the others who are planting and watering the seed... and, most of all, to the Lord of the Harvest for giving the increase. Please be praying that these 11 new Christian's will have healthy, happy and holy lives in service to their Lord.
Busy And Blessed. The last few days I have preached and taught at the Sylvia congregation in Dickson County, taught Vacation Bible School at the Centerville congregation, and led devotionals for 2 groups at Camp Meribah. By the time you read this article (Lord willing) I will have taught in a VBS at the Wolf Creek congregation. I am scheduled to teach VBS at Brushy the next 2 Sunday nights, lead another devotional and teach a daily Bible class for a week at Meribah, and speak in a Wednesday night series at the Fairview congregation. I can tell you that the church is alive and well, awake and active in this area. Let's all pray that the church can once again "turn the world upside down" in our area and around the world... because, as you well know, upside down from where the world is now would actually be right side up!
The above text is the article from the bulletin front page dated 6/23/2022
Want to see more bulletin articles? Click here to visit the archives, where all articles are cataloged.
Home

page for the Church Of Christ at Fairfield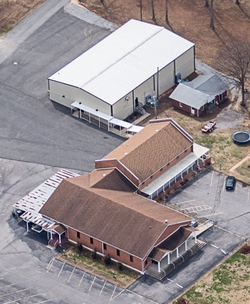 Welcome to the Fairfield Church of Christ website. Thanks for visiting!
LOCATION:
Fairfield Church of Christ
1860 Hwy 100
Centerville, TN 37033
(931) 729-5142
View Directions
WORSHIP SERVICES:
SUNDAY
Morning Worship: 9:00 AM
Bible Study: 10:15 AM
Evening Worship: 6:00 PM
WEDNESDAY
Bible Study: 7:00 PM

WEBSITE VISITOR STATISTICS:
29 page visits today
8353 page visits since 12/8/2021