Church Of Christ at Fairfield
Are you close to
God

?

We would be glad to help you come closer...
Most Recent Audio from our Services...
VBS Taylor Bell - The Life of Moses 7-10-22 PM
Want to hear more audio from our services? Click here to visit the archives, where all audio recordings are cataloged.
Weekly Bulletin Message...
Mike's Minute
By Mike Kelley
Humility is such a tricky quality. If you think you have it, you probably don't. If you doubt that you have it, you just might. I like the way that humility is presented in the following essay, by David McCasland:
Louis B. Neumiller was known for his humility, integrity, and commitment to quality. As president of the Caterpillar Tractor Company from 1941-1954, he led the manufacturer of earth-moving equipment through the challenges of World War II and into global expansion. His leadership style has been described as "success without fanfare." His mark of greatness, someone noted, was that he "let his company become a hero instead of himself."
We see the same quality of selflessness in John the Baptist, a dynamic preacher who paved the way for the Messiah. When John's followers became concerned that Jesus was baptizing people and crowds were following Him, John replied: "You yourselves can testify that I said, 'I am not the Messiah but am sent ahead of him... He must become greater; I must become less.'"
As followers of Christ, are we lifting Him up or seeking honor for ourselves? Rather than being disappointed when our contribution is unnoticed, we should be glad because our highest privilege is to magnify the Lord. He's the hero!
Honoring Him is the mark of greatness.
The above text is the article from the bulletin front page dated 1/19/2023
Want to see more bulletin articles? Click here to visit the archives, where all articles are cataloged.
Home

page for the Church Of Christ at Fairfield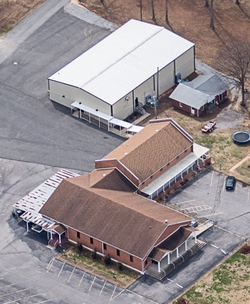 Welcome to the Fairfield Church of Christ website. Thanks for visiting!
LOCATION:
Fairfield Church of Christ
1860 Hwy 100
Centerville, TN 37033
(931) 729-5142
View Directions
WORSHIP SERVICES:
SUNDAY
Morning Worship: 9:00 AM
Bible Study: 10:15 AM
Evening Worship: 6:00 PM
WEDNESDAY
Bible Study: 7:00 PM

WEBSITE VISITOR STATISTICS:
4 page visits today
18173 page visits since 12/8/2021