Church Of Christ at Fairfield
Are you close to
God

?

We would be glad to help you come closer...
New Church Directory!
If you are a member of our church, and have not scheduled your photos, please click
here
to schedule your photo shoot. Your participation will help the church and yourself. Every family photographed for the directory will receive a copy of the directory and an 8x10 portrait at no cost. So please, sign-up today!
Most Recent Audio from our Services...
VBS Taylor Bell - The Life of Moses 7-10-22 PM
Want to hear more audio from our services? Click here to visit the archives, where all audio recordings are cataloged.
Weekly Bulletin Message...
Mike's Minute
By Mike Kelley
Humble yourselves therefore under the mighty hand of God,
that He may exalt you in due time.
1 Peter 5:6
An old poem tells about a woman who was strolling through a meadow one day. As she walked along, meditating on nature, she came upon a field of pumpkins. In the corner of the field stood a huge, majestic oak tree
The woman sat under the oak tree and began musing about the strange twists in nature. Why do tiny acorns grow on huge branches and huge pumpkins grow on skinny little vines?
She thought, It doesn't make sense. God made a blunder with creation. He should have put the small acorns on the tiny vines and the large pumpkins on the huge branches.
After a while, the woman dozed off, enjoying the cool shade of the oak tree on the warm, early autumn afternoon. He was awakened when a tiny acorn bounced off her nose.
Chuckling to herself, she amended her previous thinking. Maybe God was right after all!
In every situation, God knows more about the people and circumstances involved than we can ever know. He alone sees the beginning and the ending. He alone sees the inside and the outside. He alone knows how to create a Master Plan that provides for the good of all those who serve Him.
Many people want to serve God... but only in an advisory capacity. Let's humble ourselves before God and trust that Father really does know best!
The above text is the article from the bulletin front page dated 10/6/2023
Want to see more bulletin articles? Click here to visit the archives, where all articles are cataloged.
Home

page for the Church Of Christ at Fairfield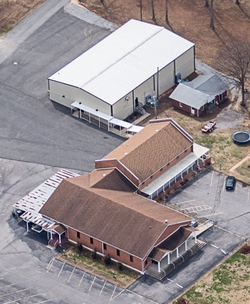 Welcome to the Fairfield Church of Christ website. Thanks for visiting!
LOCATION:
Fairfield Church of Christ
1860 Hwy 100
Centerville, TN 37033
(931) 729-5142
View Directions
WORSHIP SERVICES:
SUNDAY
Morning Worship: 9:00 AM
Bible Study: 10:15 AM
Evening Worship: 6:00 PM
WEDNESDAY
Bible Study: 7:00 PM

WEBSITE VISITOR STATISTICS:
34 page visits today
35009 page visits since 12/8/2021