Church Of Christ at Fairfield
Are you close to
God

?

We would be glad to help you come closer...
Most Recent Audio from our Services...
Mike Kelley - Getting Better at Giving 12-5-2021 AM
Want to hear more audio from our services? Click here to visit the archives, where all audio recordings are cataloged.
Weekly Bulletin Message...
Mike's Minute
By Mike Kelley
Do not remember the former things,
Nor consider the things of old.
Behold, I will do a new thing...
A man took his three-year-old daughter to an amusement park. It was her first visit to such a place and she was amazed by the sights and sounds. She was mesmerized by the whiz and whirl of all the rides. She insisted on riding one particular ride, though it was considered the "scariest" ride for young children.
She and her father boarded the ride. As she whipped around the corners and raced through the dips, her face darkened and she let out a terrified scream. Her father, beside her in the car, got her attention. Smiling calmly, he shouted over the roar of the ride, "This is fun!"
When the girl saw that her father wasn't afraid, she began to smile. Then laugh. The new experience, which had turned terrifying to her, suddenly became enjoyable. In fact, she insisted on riding it three more times.
What a comfort to know that our Heavenly Father will not only "ride the new ride" with us, but the ride is never scary to him. Nothing about the future frightens God. He has good plans for us.
When we look into the future from our perspective, we may become frightened. When we consider the future from His perspective, we are far more likely to shout with joy, "Let's go. This is going to be fun!"
The above text is the article from the bulletin front page dated 1/6/2022
Want to see more bulletin articles? Click here to visit the archives, where all articles are cataloged.
Home

page for the Church Of Christ at Fairfield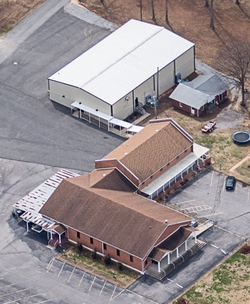 Welcome to the Fairfield Church of Christ website. Thanks for visiting!
LOCATION:
Fairfield Church of Christ
1860 Hwy 100
Centerville, TN 37033
(931) 729-5142
View Directions
WORSHIP SERVICES:
SUNDAY
Morning Worship: 9:00 AM
Bible Study: 10:15 AM
Evening Worship: 6:00 PM
WEDNESDAY
Bible Study: 7:00 PM

WEBSITE VISITOR STATISTICS:
5 page visits today
1651 page visits since 12/8/2021