Church Of Christ at Fairfield
Are you close to
God

?

We would be glad to help you come closer...
Most Recent Audio from our Services...
VBS Taylor Bell - The Life of Moses 7-10-22 PM
Want to hear more audio from our services? Click here to visit the archives, where all audio recordings are cataloged.
Weekly Bulletin Message...
Mike's Minute
By Mike Kelley
Here We Grow. We are excited beyond words to report that Eli Powers was baptized into Christ this past Sunday morning at Fairfield. Eli is the son of Gary Cunningham and Rhonda Powers... and the grandson of Willie and Minnie Powers. I served as Eli's school counselor for 2 years and can tell you that he is a polite, well-behaved, intelligent young man. He had thought carefully and studied diligently about his decision to follow Christ. How special it was to see Eli coming down the aisle during the invitation song, hear him make the good confession, and watch as he was immersed in water for the forgiveness of his sins! Please congratulate and encourage Eli when you see him... and pray that he will have a healthy, happy, and holy life of service to God and God's people.
Back To The Future. The Future Leaders Class met for the 3rd time last Sunday night. 11 boys and girls have attended for the last 2 meetings. So far, we have learned that leaders are helpers, good listeners, and humble. We have played follow the leader, the telephone game, and used a slingshot (like David). In the last session, we split into boys and girls classes. The girls learned about the opportunities for service that women have in the church. Spoiler alert: there are a lot! The boys' lesson was on leading a public prayer. We learned how to prepare our minds; how to begin a public prayer; an outline of things to include in the prayer; and that we should talk loudly, slowly, and clearly so that we can be heard and understood by those in the audience. Thanks so much to all parents and grandparents who are making the effort to get children to this class! This Sunday night (September 25), there will be a puppet show for all children during evening worship. The following Sunday night, Future Leaders will resume. It will run until the end of October, with a graduation ceremony being held on October 30.
The above text is the article from the bulletin front page dated 9/23/2022
Want to see more bulletin articles? Click here to visit the archives, where all articles are cataloged.
Home

page for the Church Of Christ at Fairfield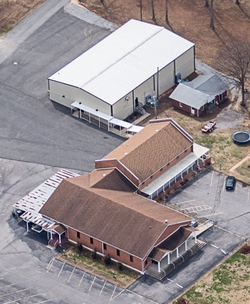 Welcome to the Fairfield Church of Christ website. Thanks for visiting!
LOCATION:
Fairfield Church of Christ
1860 Hwy 100
Centerville, TN 37033
(931) 729-5142
View Directions
WORSHIP SERVICES:
SUNDAY
Morning Worship: 9:00 AM
Bible Study: 10:15 AM
Evening Worship: 6:00 PM
WEDNESDAY
Bible Study: 7:00 PM

WEBSITE VISITOR STATISTICS:
32 page visits today
12602 page visits since 12/8/2021